I HAVE SET UP THIS HUNTING WITH AIREDALES BLOG AS A SORT OF ONLINE BOOK AND RESOURCE ABOUT THE HUNTING AIREDALE, IT IS DEDICATED TO MY FRIEND "MR. AIREDALE", "HENRY JOHNSON JR", BACK IN THE LATE 1980s HE IS THE ONE THAT STEPPED FORWARD, TOOK THE BULL BY THE HORNS AND WITH HIS WELL WRITTEN "FULL CRY MAGAZINE" COLUMN GOT THE BALL ROLLING TO GET THESE AIREDALE TERRIERS BACK ON TOP AS HUNTING DOGS WHERE THEY BELONG!!
TODAY THAT BALL IS STILL ROLLING, AFTER STINTS BY KEVIN KELLY AND CLINT STUBBE, PETE BASSANI IS NOW AT THE HELM OF THE MONTHLY "FULL CRY" MAGAZINE COLUMN AND WHILE WE STILL HAVE A WAY TO GO, SLOWLY BUT SURELY THE AIREDALE TERRIER IS COMING BACK AS THEY ONCE WERE, A VIABLE PLAYER IN THE WORLD OF HUNTING DOGS!
Henry Johnson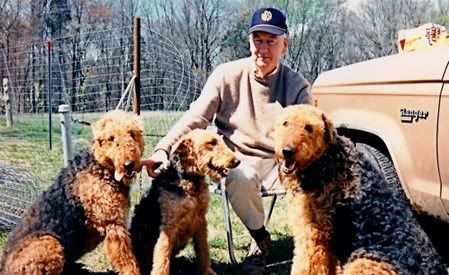 WELCOME
The Hunting With Airedales Blog has been created to provide a wealth of useful information and insight for folks "SERIOUSLY" interested in using the Airedale Terrier as a hunting dog. Our interest is singular, we are looking to produce and maintain an Airedale Terrier that the original breed founders would be proud to own and use, "A Versatile-Sporting-Hunting Dog"
This blog is basically an "open to the public", "READ ONLY" ,extension-thumbnail view of the private "Traditional Working Airedale" message board and what we are about.

http://traditionalairedale.proboards.com/
Most of the information posted on this blog will come from the pages of the "Traditional Working Airedale" message board which I highly recommend to anyone that is serious about hunting with an Airedale Terrier to join.
I will say this, if you are one of those people who like to stir the pot or a cheap shot artist you need not apply, I ain't got time to mess around with wise asses and a bunch of "I know more than you" or "My dogs are better than Yours" foolishness!! In the end all the rhetoric means "squat", your hunting dogs will have to prove themselves by their deeds afield and that is the way they should and will ultimately be judged.
And last but certainly not least, we absolutely do not support in any way, shape or form the breeding or training of Airedale Terriers for use in protection sports or attacking and biting people, they are "COMPANION-PEOPLE DOGS" & "HUNTING DOGS"!!
These days I am pretty busy on my farm and running the Traditional Working Airedale board so this is not going to be one of those daily or even weekly blogs. Pertinent new information will be posted here from time to time as it becomes available, I will also be adding to and tweaking what is already here.
To navigate this blog's content click on the little grey arrows in the Blog archived material on the right hand side of this page, dive in and enjoy.
Al Kranbuhl
A Tom Mansanarez panting of Sandy Seaton Sallee's Airedales "Buster" & "Banjo" running a Grizzly Bear out of one of their hunting camps. It is called "Camp Guardians"
http://www.cattlecreekpublishing.com/